Understanding and Dealing with Challenging Behaviour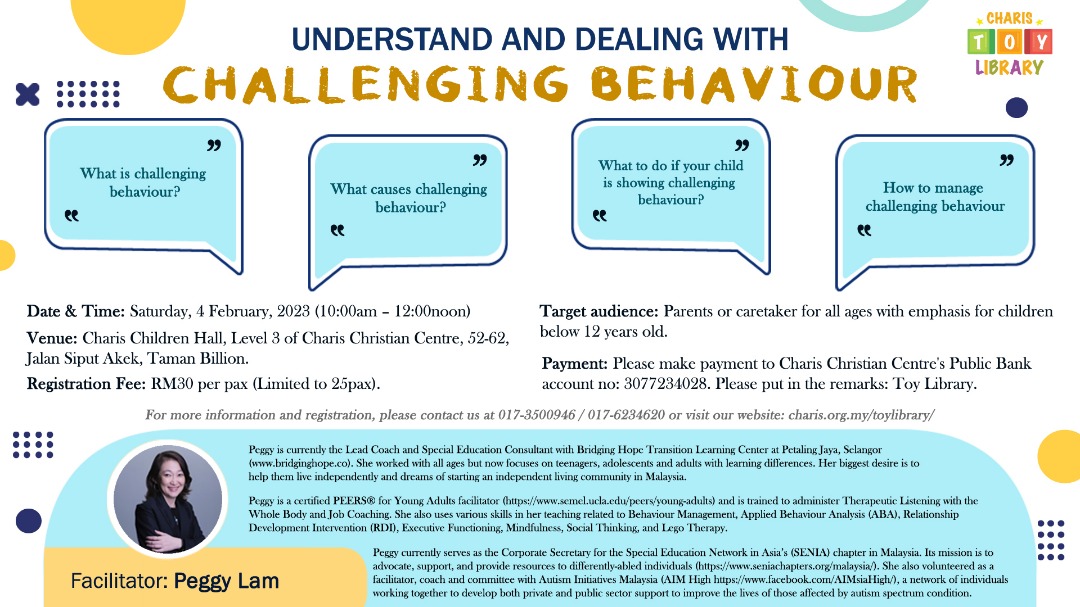 We will be discussing on the following:
What is challenging behaviour?
What causes challenging behaviour?
What to do if your child is showing challenging behaviour?
How to manage challenging behaviour?
For: Parents or caretaker for all ages with emphasis for children below 12 years old
Date and Time: Saturday, 4 February, 2023 (10:00am – 12:00noon)
Facilitator: Peggy Lam
Peggy is currently the Lead Coach and Special Education Consultant with Bridging Hope Transition Learning Center at Petaling Jaya, Selangor (www.bridginghope.co). She worked with all ages but now focuses on teenagers, adolescents and adults with learning differences. Her biggest desire is to help them live independently and dreams of starting an independent living community in Malaysia.
Peggy is a certified PEERS® for Young Adults facilitator (https://www.semel.ucla.edu/peers/young-adults) and trained to administer Therapeutic Listening with the Whole Body and Job Coaching. She also uses various skills in her teaching related to Behaviour Management, Applied Behaviour Analysis (ABA), Relationship Development Intervention (RDI), Executive Functioning, Mindfulness, Social Thinking, and Lego Therapy.
Peggy currently serves as the Corporate Secretary for the Special Education Network in Asia's (SENIA) chapter in Malaysia. Its mission is to advocate, support, and provide resources to differently-abled individuals (https://www.seniachapters.org/malaysia/). She also volunteered as a facilitator, coach and committee with Autism Initiatives Malaysia (AIM High https://www.facebook.com/AIMsiaHigh/), a network of individuals working together to develop both private and public sector support to improve the lives of those affected by autism spectrum condition.