1, 3, 8, 10, 15, 17, 29 JUNE; 1, 6, 8 JULY 2021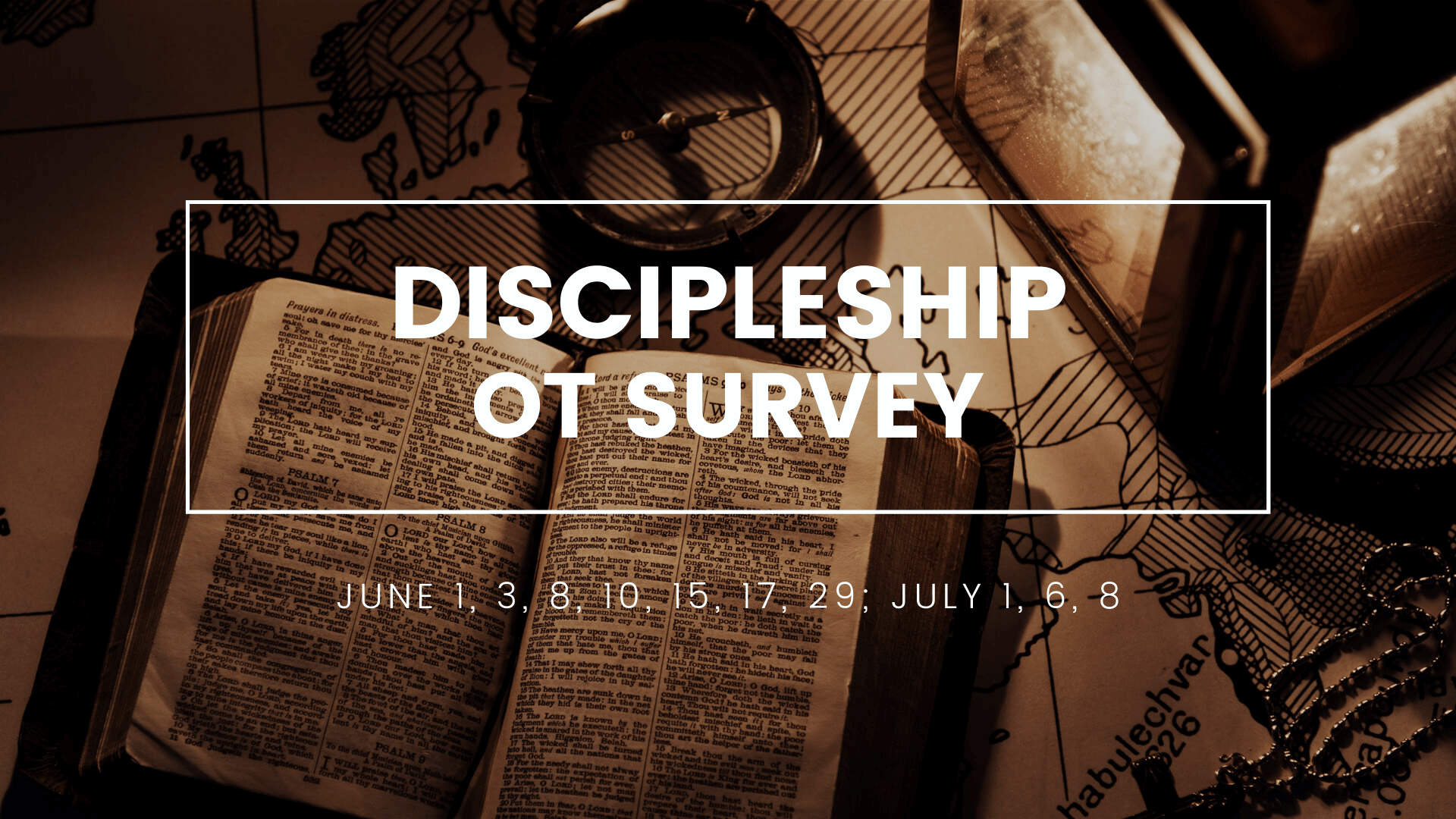 Exciting news! Charis Christian Centre is collaborating with Bible College of Malaysia in providing quality, sound and solid biblical teaching to men and women of God, like you! Upon the completion of 18 credit hour, a Certificate in Foundation in Biblical Studies will be awarded. Howeverm audit students who complete the 6 subjects offered with the required minimum attendance will also be awarded a Certificate of Completion by Charis Christian Centre.
OLD TESTAMENT SURVEY (OT 1300 / OT 5003)
Here are what you will learn from this course:
An overview of the contents of the Old Testament.
An insight into the main themes in each of the books of the Old Testament.
The outstanding features of each book.
A knowledge of the majoy events in the history of Israel
… and so much more!
Lecturer – Rev. Wendy Ching
Rev. Wendy Ching is the Academic Dean of the Bible College of Malaysia. Over the years she has pastored, pioneered, and travelled as an itinerant preacher. She is a well sought-after Bible teacher with a heart for God, her ministry has been a blessing to many.
Date: June 1, 3, 8, 10, 15, 17, 29; July 1, 6, 8 (Tues & Thus)
Time: 7.30pm – 10.30pm via ZOOM 
Fees: Form RM80.00
Closing Date: Registration closed
For those who are interested in taking credit, kindly contact Pr. Shirley or Sis Sarah at the Church Office. 
Upcoming courses
An Old Testament Book (in Sept/ Dec)
New Testament Survey (in 2022)
A New Testament Book (in 2022)
Pentecostal Foundation
General/ Elective/ Theology Subject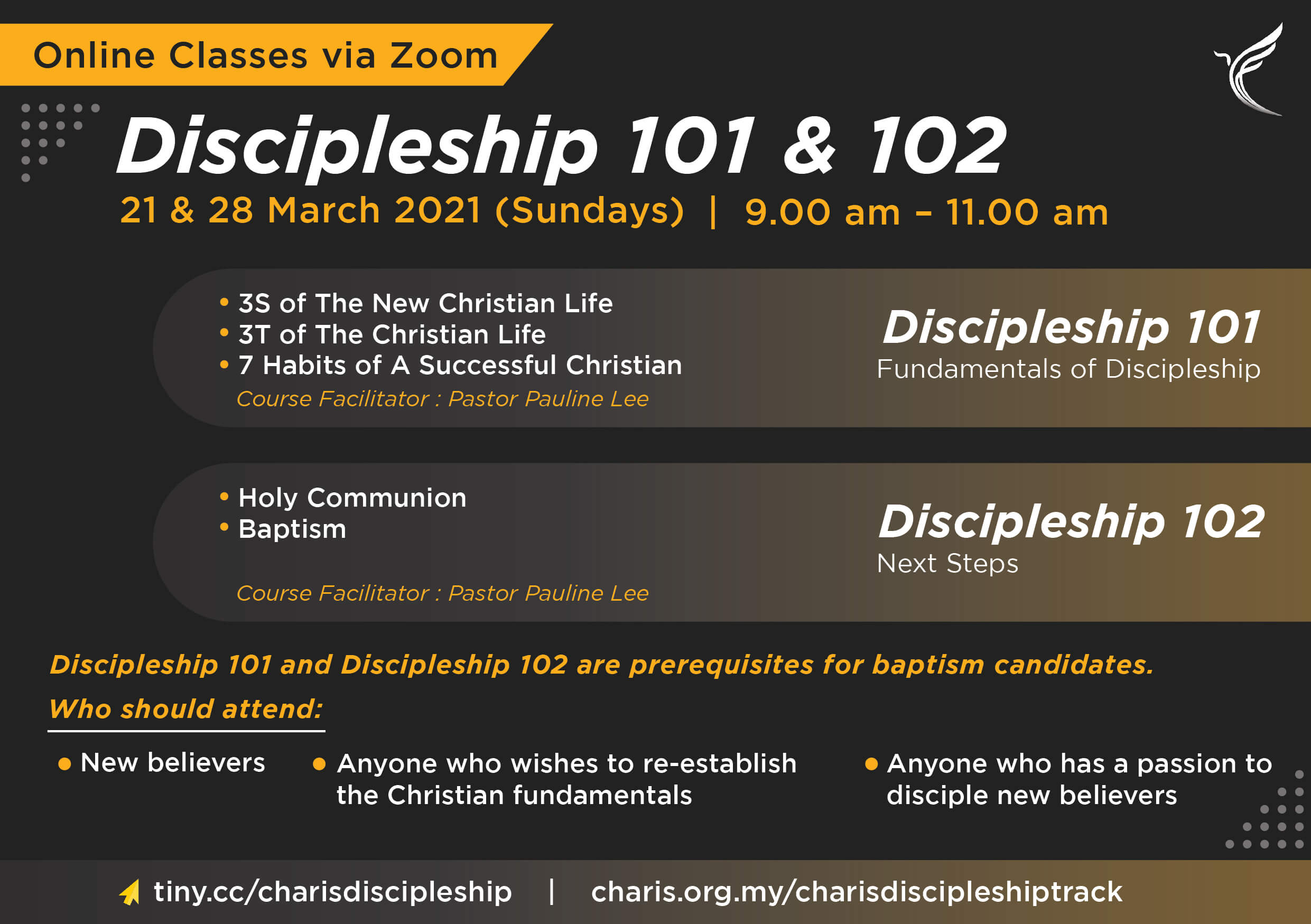 Charis Discipleship endeavours to empower every member of Charis Christian Centre to be a committed disicple and a disciple-maker of Jesus Christ. These are our 3 Discipleship Tracks:
ESTABLISH to establish the Christian Fundamentals and Living
EXPLORE to explore the Bible and the Chrisitan Worldview
EMPOWER to be empowered to disciple, lead and live out our divine destiny for the glory of God.
Join us online this 21 & 28 March, for Discipleship 101 and Discipleship 102.
Discipleship 101 and Discipleship 102 are prerequisites for bapitism candidates. if you are a new believer or wish to re-establish the Christian Fundamentals or have a passion to disciple new believers, this is a class for you.
Course Content
Discipleship 101 – Fundamentals of Discipleship
 – 3S of the New Christian Life
 – 3T of the Christian Life
 – 7 Habits of A Successful Christian
Course facilitator: Pr. Pauline Lee
Discipleship 102 – Next Steps
 – Holy Communion
 – Baptism
Course facilitator: Pr. Pauline Lee